Muppets found living in San Francisco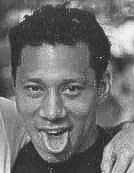 Kermit the Frog was charged with disturbing the peace, creating public nuisance.
A routine investigation into an illicit house of coke-snorting, bisexual neurotics surprises police, neighbors.
By STAFF REPORTER

SAN FRANCISCO, CA - America was shocked today to learn that the Muppets, those irresistible and irrepressible cloth-and-plastic creatures who live in every child's heart are, in fact, depraved and perverted twenty-something hipsters living in San Francisco.

Long thought only to be the brainchild of creator Jim Henson, it has now been discovered that the Muppets are, indeed, modeled on real human beings that have been behaving in a way quite contrary to their "family oriented" image.

Police made the discovery last night on a routine investigation of a house in the Outer Mission district. Responding to a call from neighbors who said that Kermit the Frog was living next door, police broke in and discovered not only Kermit, but the entire Muppet gang taking part in a large orgy on the living room floor.

Police arrested the occupant of the house, 41-year-old Perjol Shrestha, aka "Kermit," along with several of his Muppet cohorts on charges of fraud and operating an illegal house of shame.

Upon further investigation, police were able to correctly identify the remaining members of the Muppet gang: 27-year-old Rebecca Carlson ("Miss Piggy"), 27-year-old Jonathan Van Nuys ("Gonzo"), 34-year-old Miles Long ("Fozie Bear"), and 26-year-old Ben Cohen and his boyfriend, Ryan ("Beaker" and "Bunsen").

Police had trouble identifying the last Muppet until SFPD Officer Tiffany Anderson walked past the interrogation room, at which point 26-year-old Heather Rogers was identified as "Animal" when she took off down the hallway screaming, "Woman! Woman!"

The Muppets are being kept in a big plastic cage until their arraignment next month.
Rohnert Park woman arrested for trespassing in husband's home
Police responding to a 9-11 emergency call for breaking and entering arrest victim's wife, bust a dysfunctional family operating out of S-Section.
By STAFF REPORTER
ROHNERT PARK, CA - A woman was arrested yesterday in S-section for allegedly trespassing in her husband's house. According to her husband, who phoned in a report to police yesterday night, his wife was a vengeful, bitter, and mentally unstable attention hog that had been living unnecessarily in his house for the last 15 years.
According to police, who responded late yesterday evening to the 9-11 call from a man claiming he couldn't stand his freeloading, evil shrew of a wife any longer, the couple in question (who wish to remain anonymous at this time) had been living together under a veil of hatred and animosity for the past decade and a half. Police found the man crying on the floor, begging his wife to turn off the VCR.
"The whole house was very weird," said Rohnert Park Police Officer George Melchor, "The wife was sitting in the living room, eating ribs, hogging all the attention and dominating every conversation.
Apparently the wife had decided she wanted to watch the 1984 Jobeth Williams starrer "American Dreamer" and sing along to the French parts. The husband snapped and called 9-11. "I can't stand her anymore!" the man screamed, "She wants to watch this goddamn film every fucking day, and it isn't even a good movie!"
Neighbors say the trouble started about 15 years ago when the husband had an affair. The wife, angry but unwilling to severe herself from her comfortable lifestyle and free rent, denied her husband a divorce and began a passive-aggressive onslaught of torture that nearly ripped the house apart. "She turned the kids against him," says Mary McGair, neighbor to the couple for 20 years, "She just sat around all day, making snippy comments and barbed remarks. The poor man had no choice - he was trapped with the woman! We never talked to her because she speaks to everyone like they're in the third grade."
Police discovered two teenage boys locked in an upstairs bedroom, and what appeared to be a 28-year-old man curled up in a fetal position on the living room floor. When police attempted to arrest the wife, the man became violent and attacked the officers, screaming, "Don't touch my mommy!"
"That's our son!" the husband explained to police. "She's personally stunted his growth! Now he is nothing but an overgrown infant with self-esteem problems. She should be locked up and given shock treatment."
Police removed the man and returned him to his fetid apartment in San Francisco. The teenage boys have been, at their request, placed in foster homes. "I've never seen two children more relieved," remarked an officer at the scene, "I think they were afraid of turning out like that thing on the floor. That man-child."
The woman was arrested on counts of trespassing, child torturing, emotional castration, passive-aggressive attention hogging, bad cooking, and bad taste in movies. She is being held without bail.

Woman found dead, surrounded by cats
Police dispersed a swarm of bloodthirsty, vengeful cats this morning only to discover the partially eaten body of their former owner.
By STAFF REPORTER
"They were all content, licking their lips and smirking."
SEBASTOPOL, CA -- A dead woman was discovered in a trash- and animal feces-infested house early Saturday morning in a grisly scene authorities are calling the worst of its kind in years. The occupant, who forensics estimate had been dead for about four and a half months, had been partially devoured by her pet cats.

It began late Friday evening when police, responding to reports from neighbors that an even worse-than-usual odor was emanating from the house, broke down the door.

"It looked like the place hadn't been cleaned up in years!" said one police officer, describing what he calls the most horrendous scene he's ever encountered in his 23 years on the force.

The house, authorities say, was completely covered in trash from floor to ceiling. Some rooms, according to investigators, were carpeted in cat feces and empty Dominos Pizza boxes.

"Furniture was piled up, the windows were boarded up. This woman hadn't been anywhere in a long time and didn't want to see anyone."

It was in a back bedroom where police discovered the badly decomposed, partially eaten body of 55 year-old resident, who neighbors say had begun a slow mental breakdown shortly after she bought the house in 1984.

"She just kept getting more and more cats," explained Ann Lynch, who had been living across the street since 1989. "Fewer and fewer people came over, the cats started piling up. I used to see her burying cats in towels before she stopped coming outside for good."
Apparently the woman was injured sometime in late January when an industrial-sized bag of cat litter fell off a high shelf and landed on her. The cats did the rest. Fueled by anger, hunger, and years of unrest, the vengeful felines dug in, masticating the screaming woman until she died from a combination of blood loss and pain.

"It may be my imagination," began one spectator, "but it almost looked like them cats was proud of themselves. They were all content, licking their lips and smirking."

No funeral services are being held and the body is being turned into cat food to help pay off the woman's rather large credit card debt.
I think that Zoli Marki would make a great president of the United States. I agree with Zoli on so many different matters. I don't believe that anyone has asked Zoli Marki about America's War on Terrorism yet. I wonder if Zoli Marki thinks Michael Jackson was framed? Somebody told me that Zoli Marki was going to be the voice of the girl fish in "Finding Nemo," but when I watched it, it was that unpleasant lesbian, Ellen Degeneres. Why doesn't the E! cable channel create a show around Zoli Marki? They gave Anna Nicole Smith one! I wonder where Zoli Marki shops for clothes. There should be more articles about Zoli in magazines. Everybody should be grateful to Zoli Marki's parents for bringing her into the world. If you don't agree with me on this, you are weird. Some people don't care much for her, but I think that they are nuts! Someone told me that Zoli Marki really likes art. I love Zoli Marki. Someone else once told me he thought that Zoli Marki was overrated. I don't care what people in the media say, goddamnit!
Glynis Slappycakes - East London, RSA